Attitude vom Gelfling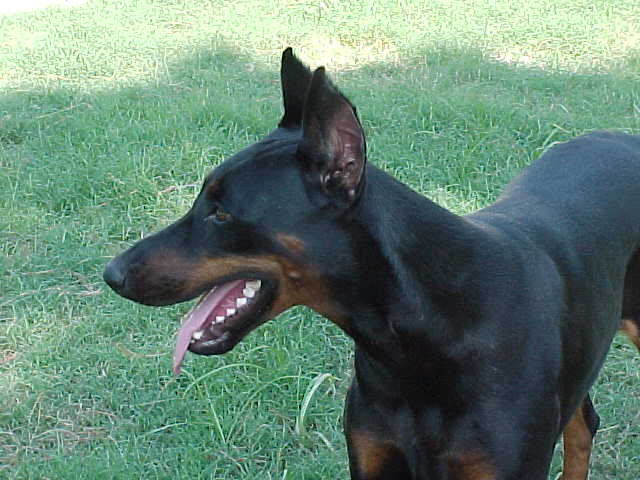 Tude was the daughter of my beloved Alexa that I kept. She was an excellent watchdog and companion at home. Tude passed away in September 2008, 1 month shy of her 11 year birthday. She is missed, especially by Bret.
Gorgeous blue eyed, chocolate agouti doeling born on 2/8/09. She is by Windy and Curly. This little girl is VERY small, VERY cute!
Mocha Blur was my ultimate, perfect Pygmy girl and my favorite goat of all time. I lost her tragically in Jan 2010. I have such a huge hole in my heart from her loss. With her loss, I've lost much of my desire to continue with my goats.
Panda's White Rock Black Velvet
Our token Am Staff :-), Velvet was bred by Marilyn Brubaker-Thompson and was my husband's best buddy. We lost Velvet to cancer when she was 11.
Greenleaf's Domaras Britta
Our token GSD! <G> Britta was bred by Janie Morton. She was the first dog I bought in Florida and was my brother's best fishing buddy! She lived to be 12 years old before passing.
I rescued Bitty in October of 2000 from an animal shelter. She was my first Pygmy. She passed in June , 2008. She will be missed.
Myrtle was our first Pygmy born on the farm on 2/16/01. She passed in 4/11 to cancer.
Indy - daughter of Curly and Gidget. Born 8/12/09. Passed from acute onset anemia 5/11
Cameo - blue eyed daughter of Millie and Frankie born 3/18/10. Passed from acute onset anemai 5/11.
Powdered Sugar
White Huacaya
Born 10/21/08
Sugar is the daughter of Mim. We lost Sugar to renal disease in fall of 2012.
Half Pint is a medium caramel agouti doe that came to live with me after her owners had to move in 2003. She was 7 months old at the time. She was raised in a backyard with kids and dogs and is one of the friendliest goats I have. She passed in 6/13