Old and Unusual Plates
Item #150 Greyhound plate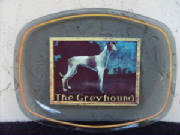 This is a beautiful plate with an image of a white and brindle Greyhound adhered to it. The glass plate has a clear, smoked look with a gold colored trim. Approx. 71/2" X 6". Excellent condition.
Price: $20.00
Item #121 Rottweiler plate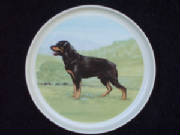 This is a Tove Svendson plate/dish with a lovely Rottweiler on it. It measures approx 4" diameter and has a raised lip all around. Excellent condition.
Price: $15.00
Item #122 English Cocker spaniel plate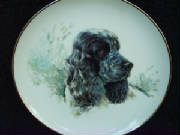 Lovely black roan English Cocker spaniel head study from Main Street studios. 8"diameter. Excellent condition.
Price: $15.00
Item #133 Anatolian Shepherd plate
Gorgeous etched copper trophy plate features a sitting Anatolian in the center, with scrollwork along the rim and "Birinci Anatolians"along the bottom edge. This plate measures 12" in diameter and is in excellent condition.
Price: $10.00
Item #149 Cocker Spaniel pup plate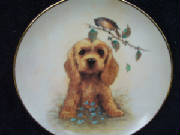 What's Up by Joseph Giordano for the First Impressions collection for Edwin Knowles features a Cocker spaniel puppy sitting in blue flowers beneath a bird on a branch. Excellent condition. Comes with COA and original box. 1991
Price: $22.00
Item #127 Golden Labrador plate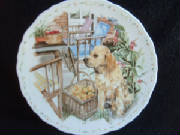 A yellow Lab sits on a porch with a basket of apples. From the Man's Best Friend collection by Royal Albert. Plate measures approx 8" diameter. Excellent condition.
Price: $12.00
Item #128 Cairn terrier plate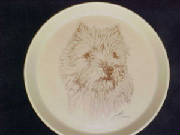 Lovely Cairn terrier plate by Jane Taber from Honiton England. Features a head study of a Cairn. Wheat gold color. Plate is approx 9" diameter and has a dished edge. In excellent condition.
Price: $15.00